It's no secret that sexual harassment has been a major problem in Hollywood. Big names, from both genders, are constantly making headlines for harassment and inappropriate advances. Now, the spotlight is on Bill O'Reilly of Fox News', "The O'Reilly Factor."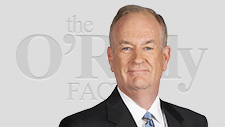 Fox News' parent company, 21st Century Fox, said it would investigate sexual harassment claims against O'Reilly, according to Fortune. The investigation was initiated after Wendy Walsh, a radio personality and former regular guest on "The O'Reilly Factor," phoned in a complaint to the network's hotline.
The Scoop
Walsh claims O'Reilly pulled a job opportunity from her in 2013 after she declined to visit his hotel room. O'Reilly quickly denied Walsh's claim, according to The Washington Post.
O'Reilly is no stranger to sexual harassment claims. Since 2002, four women have accused the anchor of sexual harassment and verbal abuse, according to a New York Times investigation. The paper reported that the network has paid women an aggregate of $13 million to not pursue the claims and keep quiet.
So, what does this investigation mean for O'Reilly?
"21st Century Fox investigates all complaints, and we have asked the law firm, Paul Weiss, to continue assisting the company in these serious matters," said representatives of the company.
The same law firm previously handled the channel's investigation into Roger Ailes, the Fox News chairman who was ousted in a sexual harassment lawsuit that brought more than two-dozen women forward with claims against him.
Bloom, Walsh's lawyer, voiced her opinion on Twitter stating that the firm has an ethical obligation to Fox News, which makes them the furthest thing from an independent resource.
Sexual Harassment Claims
Unfortunately, sexual harassment occurs in the workplace too frequently. You have the right to work without fear of being harassed by a boss, peer, or a client. In fact, your company and its supervisors are required to protect you from these hostile environments.
At Carter Law Firm, our team of lawyers helps clients right these wrongs. The firm is a top California employment and labor shop with expertise in sexual harassment cases. See here for more information about on the job sexual harassment and what you can do about it.
For a free consultation regarding your sexual harassment case, contact Carter Law Firm and follow our Facebook page for the latest employment law news that is improving work conditions across California and nationwide.